Whether you're looking for #traveltips, #food, or #photography, there's a hashtag for that. In 2007, the social media-savvy hashtag emerged from the pound symbol. And we haven't looked back. Trending hashtags have grown markets, raised awareness, and stimulated viral conversation across the web. If you're wondering how hashtags can benefit your brand, you're in the right place.
History of Hashtags
Back in the summer of 2007, web specialist Chris Messina approached the one-year-old Twitter corporation with the idea of using the pound symbol (#) as a way to group tweets together. His August 23, 2007 tweet soon became the first to use a hashtag. Other social sites such as Instagram, Facebook, and LinkedIn quickly hopped on the hashtag train. From then on, trending hashtags have become an effortless way to find an array of conversations on topics that interest you. 
For example, in 2020, #stayhome was a popular trending hashtag for businesses and individuals to share the ways they persevered through stay-at-home orders. From giving back to a community or goofing around with family, this hashtag spread awareness of the importance of staying home while building community during a time of global adversity. Today, #stayathome tallies 20.4 million posts on Instagram and it is estimated that #stayathome was tweeted about 3.5 million times between January 1 and May 20 of 20201.  
#Why: Uses and Benefits of Trending Hashtags
Hashtags are fun to use and incorporate into your posts, but they can also make a big difference in performance and engagement. Specifically, they can grow your page's following, increase traffic to your content, and build brand awareness and identity.
Grow Your Audience
Hashtags are social media indexes for content with similar subject matter. When your brand relates to relevant hashtags, more people who are interested in your industry see your posts. If you continue to post relevant content with related hashtags, you can build your niche audience and gain more engaged followers. In addition, research hashtags with a large following that influencers in your industry commonly use. This gets fans of the topic to see your posts and your page. If you're lucky, some of these individuals may also share your posts which boosts views and engagement even more. 
Brand Awareness & Identity
Some brands have built trending hashtags around their brand name. For example, in 2014, Always launched its #LikeAGirl campaign. The hashtag and corresponding content rapidly grew into a gender empowerment movement. Specifically, the original #LikeAGirl ad garnered over 90 million plays and was circulated by many celebrities. Every time this hashtag was reposted, Always received more awareness for their brand. At the same time, they also were promoting their brand values around female confidence and empowerment. In a similar sense, hashtags are an easy way for brands to show their allegiance to current social movements. Even without an extensive public statement, many brands have shown their support on social media by including trending hashtags like #BlackLivesMatter #StopAsianHate or #loveislove as a way to show their brand alliance to current movements.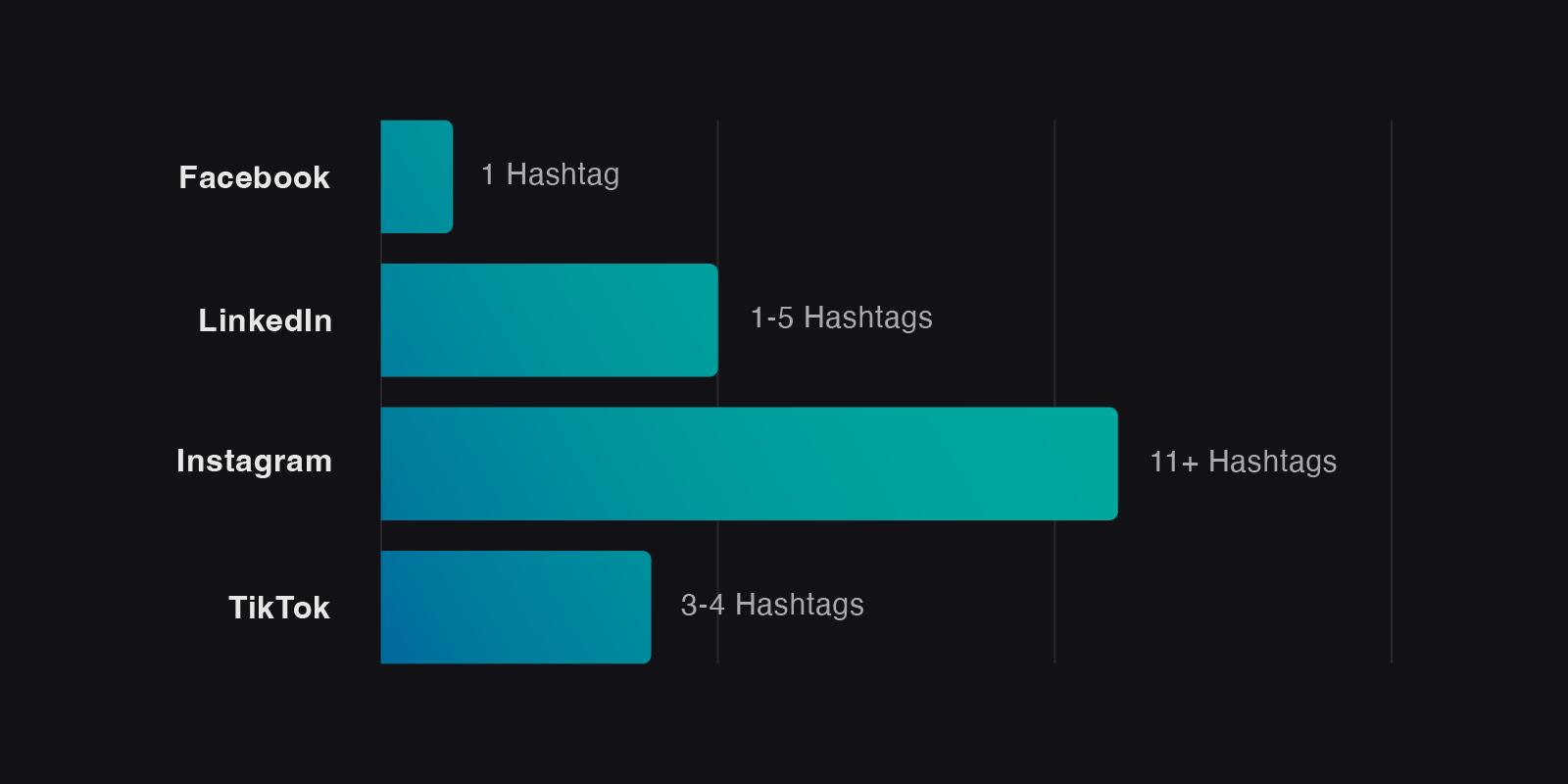 Approaches By Platform
To optimize your use of trending hashtags, you should take note of the quantity of tags that do best. On Facebook, less is more. Statistics show that using just 1 hashtag on a Facebook post results in higher engagement than using 3-5 or 6 or more2. The same is true on LinkedIn, where using 1-5 hashtags is best. Users can follow professional hashtags on LinkedIn and view them in their news feed, so try to include hashtags with a substantial following in your posts. On the contrary, Instagram sees success with more extensive hashtag usage. Specifically, using just one hashtag on a post results in 29% more interactions. However, the use of more than 11 hashtags on a post accumulates 79% more interactions2. Finally, TikTok's rapid growth makes it a key platform for seizing the benefits of trending hashtags. Specifically, hashtags in the entertainment category have been used 535 billion times on TikTok2. With more than 1 billion active users each month, TikTok is a great platform for growing your audience with trending hashtags2. Lastly, don't forget to check out your hashtag performance on social. Reporting on what does well can help improve your strategies over time; make changes as needed and target your strategies accordingly.
Trending Hashtags are #TheNextBigThing
Trending hashtags have been, and will continue to be, an easy yet effective strategy for highlighting your brand's presence on social media. If you're looking to build your next big thing on social, our team at FYD can help. Together, we can create and execute a social strategy that capitalizes on trending content. Contact us today to get your hashtag game plan started.
---
References
1 Robert. (2020, May 25). StayAtHome — A story of COVID-19: An analysis of trend and perspective about StayAtHome campaign. https://towardsdatascience.com/stayathome-a-story-of-covid-19-6aeeba2b6c 
2 Campbell, S. (2022, October 24). Hashtags statistics 2022: Twitter, Instagram, Facebook & LinkedIn. The Small Business Blog. https://thesmallbusinessblog.net/hashtags-statistics/#:~:text=Twitter%20Hashtags%20Statistics%202022,-When%20it%20comes&text=Using%20hashtags%20with%20your%20tweets,can%20gain%2021%25%20in%20engagement