It's a funny TikTok dance, an influencer telling a story on YouTube, or an Instagram Reel of someone cooking pasta in an oddly satisfying way. Videos are just fun, right? Yes, but video marketing is also an incredibly effective tool.
87% of marketers report that video has helped them achieve a positive ROI; meanwhile, 92% say video adds value as an 'important part' of their marketing strategy1. 
Let's talk about all the ways video marketing matters.
What is Video Marketing?
Video marketing is the use of video to share info about a brand or generally raise brand visibility and awareness on social media. Currently, some of the most popular video sites include YouTube, TikTok, and Instagram. 
Something to recognize about video marketing is that its tone typically matches the brand's personality. For example, Duolingo has dominated the game on TikTok thanks to Duo, their oversized green owl mascot who is obsessed with Dua Lipa and reminds you to do your daily language lessons. Their eccentric mascot and app reminder features bridge together the company's goals of making language learning both accessible and fun. 
Although many of Duolingo's TikToks share nothing directly related to the brand's product or services, these widely popular videos are a foot in the door. Viewers are entertained and intrigued, causing them to look further into the brand. However, what exactly is the quantitative impact of these videos?
Video Marketing by the Numbers
By 2027, online video platforms are predicted to reach $18.7 billion in value2. As the growth of video consumption continues to grow, so will the positive impact and value of video marketing. Video-specific sites like TikTok and Youtube gross billions of users every month. Specifically, TikTok totals about 1.0 billion active users each month while Youtube tallies 2.2 billion monthly users. Falling in the middle is Instagram. Instagram has been growing in the video marketing game with the rise of Reels. The social site has been a staple since 2010 and grossed 1.4 billion monthly users in the past year3. 
When viewers visit these sites, they also spend an ample amount of time consuming content. TikTok users spend, on average, 95 minutes on the app per day3. The average Youtube user spends about 42 minutes on the platform daily4, while the average viewing time per Instagram Reels session comes in at about 53 minutes5.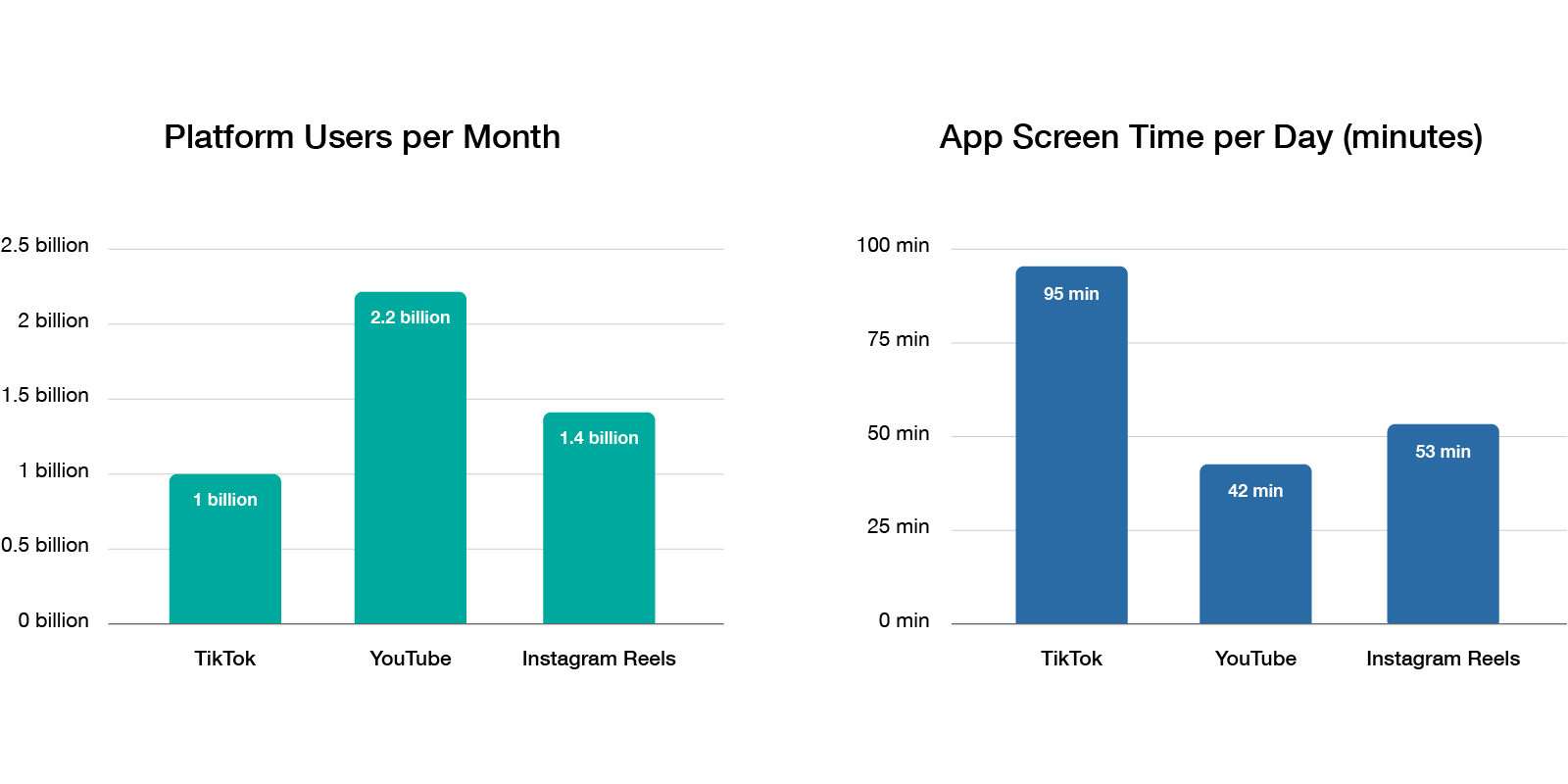 The numbers don't lie. Posting videos to sites with high-volume usage puts your brand in front of consumers in an effective, engaging, and memorable way.
Venturing into Video
If you're new to video marketing, here are some tips to help you get rolling:
Keep it brief.

The shorter the video, the better. Quickly captivate your audience with a snappy clip.

Embrace the trends.

Take some time to check out sounds, challenges, or video styles that are currently trending on various platforms. Hopping onto trends is a surefire way to make a video you know will be well-received.

Show who you are.

Like any marketing content, your videos should reflect your

brand's voice

, culture, and personality. 
Video marketing is a trend on the rise that won't be going away anytime soon. So if you're looking to venture into video marketing, FYD can help. We can help craft social media strategies to attract and engage your target audience across platforms. Contact us today to get filming.
---
References
1 Wyzowl. (2021, December). Video marketing statistics 2022. https://www.wyzowl.com/video-marketing-statistics/
2 Grand View Research, Inc. (2020, October 21). Online video platforms market size worth $18.7 billion by 2027: Grand View Research Inc. Cision PR Newswire. https://www.prnewswire.com/news-releases/online-video-platforms-market-size-worth-18-7-billion-by-2027-grand-view-research-inc-301156590.html 
3 Wallaroo. (2022, September 30). TikTok statistics – Updated Sep 2022. https://wallaroomedia.com/blog/social-media/tiktok-statistics/#:~:text=They%20spend%20an%20average%20of,users%20have%20posted%20a%20video. 
4 Wise, J. (2022, September 5). How much time do people spend on social media in 2022? Earthweb. https://earthweb.com/how-much-time-do-people-spend-on-social-media/#:~:text=People%20spend%20the%20most%20amount,of%20three%20hours%20a%20day. 
5 Santora, J. (2022, August 3). 20 Instagram Reel statistics that will blow your mind. Influencer Marketing Hub. https://influencermarketinghub.com/instagram-reels-stats/#:~:text=Instagram%20Reels%20beat%20all%20other,of%20viewing%20time%20per%20session.